Improving The Customer Journey - Meeting Links
Let's be honest.
The customer journey isn't always a walk in the park. It's full of ups and downs, twists and turns, and vital moments you need to get right. As a marketer, it's your job to make sure everything goes smoothly for your customers in these moments. Once you learn everything about meeting links, check out our ultimate guide to RevOps here and really take the sales and marketing teams to the next level!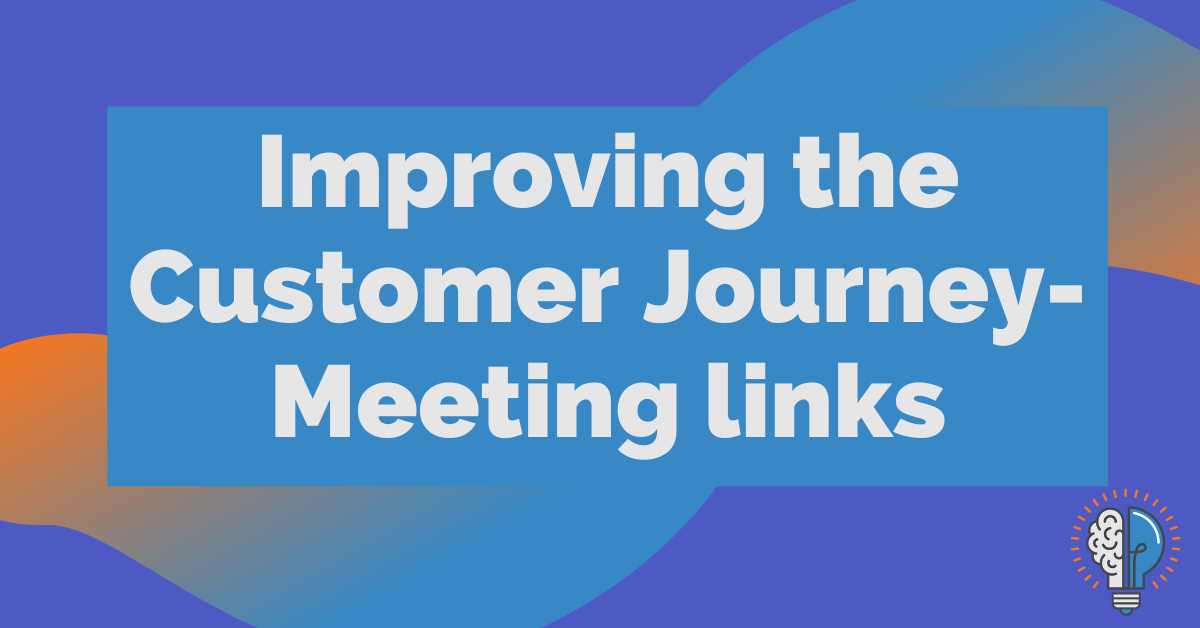 You've got to guide them through all aspects of their journey with your brand, have an amazing experience from start to finish, and hopefully become repeat customers. Meeting links can help you improve the customer journey by making it easier for prospects to schedule meetings with sales reps through

the Hubspot toolset- click here to learn more now!
What Is a Meeting Link?
A meeting link is a digital link that allows prospects to connect with you remotely via call, video, or live chat. When customers click this link, they're taken to a landing page, in most cases, your calendar, where they can schedule the meeting or call.
You can easily share the digital link via email or newsletters, text messages, or the customer's social media pages.
How Can a Meeting Link Improve the Customer Journey?
Sharing a meeting link will improve the customer journey in so many ways, so we wanted to break it down into the top 7 ways below, and then guide you on how to do it yourself, enjoy!
Saving Time and Resources


Face-to-face meetings can be costly and unconvincing, especially for the customer. They might need to travel, miss work, and use other resources to interact or engage with your brand. Not to mention the unfortunate event your calendar is full and might not be able to accommodate them.

A digital meeting link facilitates a meeting only when it's most convenient for both parties. That way, the customer can save time and resources on purchases rather than scheduling appointments.


Provide Vital Information Promptly
The customer purchase journey is also challenging to the customer as it is for you. With the numerous competing brands, the customer usually needs help choosing. Further, while the customer has a specific product or service in mind, they require more information before making the purchase and after.

A meeting link facilitates a meeting from where the customer can get all the information they need regarding the deliverable. You'll provide vital information - when they need it the most - to help them make an informed choice and purchase.




Boost Self-Service and Immediate Attention
Self-service is power. Gone are the days when the only option a customer had to set a meeting with a brand was to talk to the brand's representatives. Now, customers demand speed, and

over 80% prefer self-service options

over talking with your brand's representatives to schedule a meeting with you at any stage of their purchase journey.

A meeting link is a great way to allow your customers to serve themselves. The link directs them to your calendar or form where they can set the meeting themselves, allowing them to feel powerful.


Encourage Engagement and Interaction Between Customers
It's common for customers to share their experiences with a brand with other customers. This can help to foster loyalty and create stronger relationships with your customers, making them feel like part of something special. As a result, they are more likely to share your brand with others and become "evangelists" and regulars.


Increased Convenience and Communication
Meetings can be scheduled at the customer's convenience.

This is a huge advantage over traditional meetings, which often require people to take time off work, travel to a location, and wait for the other party to show up. The customer journey is improved by giving customers a greater choice in where and when they meet with you.

Furthermore, the link allows your customers to book the meeting at the most convenient time for both of you, eliminating the back-and-forth of email communication. The prospect checks their calendar against yours and books the appointment accordingly.


Allows the Customer to Meet You in Their Comfort Zone
Customers are always on their phones, computers, tablets, laptops, smart TVs, and smartwatches.

Customers expect to be able to book appointments from any device that they have handy or use regularly. If your appointment booking website or app is only available through a desktop browser, you'll lose out on potential customers who use other devices. Over 50% of customers shop online, and up to

77% use mobile devices

to research products online.

Therefore, it's only logical that you optimize your link to allow your customers to use their choice of devices for an increased positive experience.
Enjoy a Great Customer Experience
When you improve the customer journey, you are improving the overall positive customer experience, increasing the chances of converting the prospect. A customer who receives a positive experience after engaging with a brand is usually ready to share the experience with other customers by leaving online reviews or word of mouth.

Further,

86% of customers

are willing to pay more for a product or service if you deliver a great customer experience. Better still, the

more expensive

the deliverable is, the more they'll be willing to pay.
What Makes a Great Meeting Link?
A meeting link is an important tool in your marketing strategy. Therefore, it should be:
Shareable via common communication media, such as text messages, emails, or social media.
Easy to remember, use, and understand.
Optimized for mobile to accommodate the increasing number of customers who use mobile devices on their purchase journeys.
It stands out from other links on your website.
It easily connects to the intended destination effortlessly.
How to Create a Meeting Link on HubSpot
HubSpot provides an easy-to-use meeting scheduler that lets you create actionable and shareable meeting links.
Once we integrate the CRM with your calendar, create links by accessing your HubSpot account and the meetings tool:
Navigate to

Sales → Meetings.


Click

Create scheduling page in the upper right corner.

Click

One-on-One, Group or Round robin depending on your needs

There are four main parts – Details, Availability, Configuration, and Form Questions – you'll need to customize according to your preferences. Each step is unique but vital in creating an effective meeting link. Contact us if you need help with these steps; we are ready to help.
Improve the Customer Journey With HubSpot
There's no doubt that customer journeys have become an important part of marketing strategy. Getting your customer on board is the most important thing. If a meeting link can help with that, it's worth using.
At The Insight Studio, we help brands streamline their customers' journeys by leveraging HubSpot's meeting schedulers. Our experience and expertise using the platform make us your best bet for increased lead conversations and sales. Ready to improve your lead journey? Let's chat Revops today!